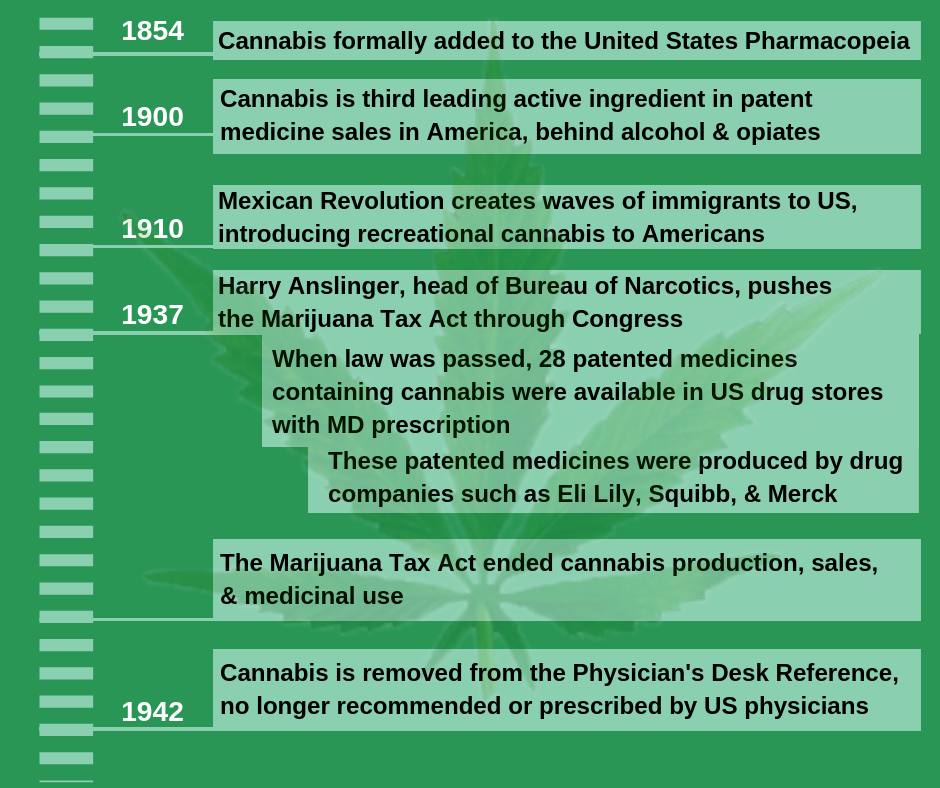 Every story has a beginning.
Cannabis's beginning was part of mainstream pharmaceuticals that were produced and prescribed in the US in the latter part of the 19th century.
Cannabis has been referenced as far back as 2800 BC and has been used for thousands of years as a medicine. In 1854, it was the third leading active ingredient in prescription medications in the US.
Then the Mexican Revolution initiated a flood of immigrants into the US, who brought with them recreational cannabis use.
The first rendition of the DEA, the Federal Bureau of Narcotics, was led by Harry Anslinger. Frustrated that his department wasn't capturing the funds that other Federal agencies were commanding, he invented the "Marijuana Menace" in order to bankroll the agency. Ever hear of "Reefer Madness"? Produced in 1936, the movie was propaganda based on Ansinger's strong opposition to cannabis. Opposition that was, incidentally, against the advice of the American Medical Association.
When Anslinger pushed the Marijuana Tax Act through Congress, there were 28 medications containing cannabis. Each cannabis therapeutic was a prescription medication that was ordered by a physician, produced by such companies as Lily, Merck, and Squibb, and available for purchase at the local pharmacy.
When the Marijuana Tax Act was enacted, no more cannabis could be produced, sold, or prescribed by a physician. Cannabis as a medicine was removed from the Physician's Desk Reference in 1942, eliminating it as a source of pharmaceutical therapy for patients. Reefer Madness had begun, and it has endured for over 80 years.
Published by
3 articles